25 Feb
We were very late to the Parks and Recreation party. We binged on six seasons in fall of last year and fell hard. Very hard. We've started the series again in tandem with the airing of season seven because we couldn't get enough. We still can't get enough. By the time this post goes up the series will have aired it's final episodes and my face will be puffy from the tears that I'll undoubtedly have shed watching our favorite government department say farewell.
As soon as we watched season four, episode four we knew our own Treat Yo'self Day was in order. For the uninitiated (There are many of you. You sent me texts asking what the heck we were doing that day. It's okay.), here's the 2-minute summary that the YouTube user won't let me embed here.
And if you want to read some of my favorite pieces written about the show, here's a round-up:
Anywho, on February 12 the first annual Ziglar Treat Yo'self Day kicked off. It was glorious. Here's what went down.
After a few finger swipes of frosting, we headed to Home Grown for the best breakfast menu item in Atlanta. To be fair, we skipped Leslie's favorite breakfast food because we indulged in waffles during the season premiere. Look at this plate of biscuits and gravy with fried chicken and you'll understand our choice.
After breakfast we had massage appointments. We skipped the acupuncture, even though Donna's argument is a compelling one.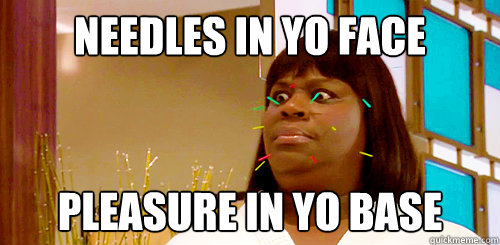 We did a lap around the mall, grabbed a coffee and headed to a movie.
They're not velvet slippies, but I was happy that my new J.Crew Vans arrived that day.
And finally, pizza, because pizza.
Treat Yo'self Day is highly recommended. Save one of your vacation days and spend it on yourself. Do nothing. Do everything. Enjoy it. Excuse me while I go remove my running mascara. I love you and I like you, Parks and Rec.